Jason Spyda Adams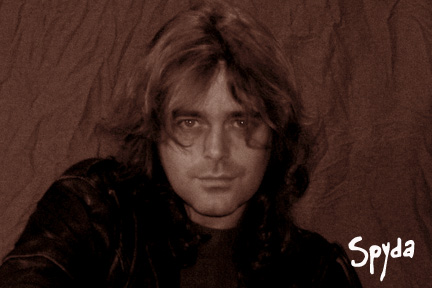 Click here to email Spyda@spydacreations.com
Jason Spyda Adams is a sculptor trained in New York city, at the prestigious School of Visual Arts, New York's premiere art college, Where he graduated with 4 portfolios, 3-D design, Illustration, Air brush, and fine Art. Despite his art training, Spyda is self taught in sculpting, having never found classes anywhere that offered what he wanted to learn. You may have seen his work in various toys over the years. In recent years, he's made a push to have his work seen more as art than product. Spyda has been devoting his time to designing and sculpting his own original works, and on occasion, working on a design or two of his father's, Neal Adams.
Beginning with resin kits, Spyda has put out his own line, including Ribald the Black Guard, Catrina the Sacrifice, and Miko Robot Killer. Each original in design and concept. In addition to these, Spyda took on the near impossible task of accurately recreating in 3-D the design and style of Neal Adams's Frankenstein from the Neal Adams "Monsters" graphic novel, and "Next..." the Barbarian, also a Neal Adams design and Spyda's all time favorite illustration. All were extremely well received by the kit building fans as well as fantasy Collectors.
Recently, Spyda Spyda has been writing illustrated articles on human anatomical sculpting studies for his new friends at Kitbuilder's magazine.
After sketching numerous designs, Spyda came up with a major project worthy of having it done as a finished paint up. Simple, yet complex, this sculpture that he calls "Tournament" shows off his skills and his sculpting philosophy. Spyda feels strongly that a sculpture should be interesting to view from all angles, or else it may as well be done as a flat illustration viewed from one angle. The design of Tournament fit this multi-angle concept perfectly.
Pausing atop a cliff, the woman leans forward on her beast and the beast tips ever so slightly forward, causing the viewer to feel the tension and weight for the figures to continue forward over the cliff, to the next town and the next tournament. Her arm forward points where she wants her beast to go, the wind pushes her hair forward.
The angles of the figure cause the viewer to feel the tendons of the beast's ankles as if it were about to take off. Wether you look at this figure from the left side, right side, front, back, three quarter, you get the same effect. It turned out to be a very exciting piece and we are proud to make it available to you.
Simon Peak simonpeak